Nothing says spring quite like this recipe from Andy McFadden
18/04/2018
The evenings become brighter, comfort-food cravings subside making way for fresh light suppers. Andy McFadden, executive chef at Glovers Alley, Dublin's hottest new restaurant has designed an exclusive recipe to share with us to kick off spring. This recipe is perfect for a light weeknight meal or starter for a weekend dinner party, served perfectly on our collection of Frost bone china, making entertaining effortless.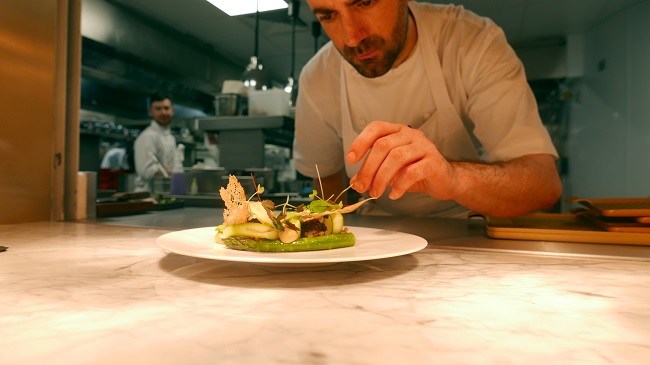 Glovers Alley is ideally situated just moments from Dublin's buzzing Grafton Street and has a spacious dining space overlooking the picturesque St Stephen's Green. McFadden leads the extraordinarily talented team who provide spectacular food combined with effortless, efficient service. McFadden works alongside Ireland's most devoted farmers and food producers to create delicious, unique and interesting dishes. His recipes all reflect his style of French-influenced cooking, made up of simple, elegant and refined plates to suit all palates.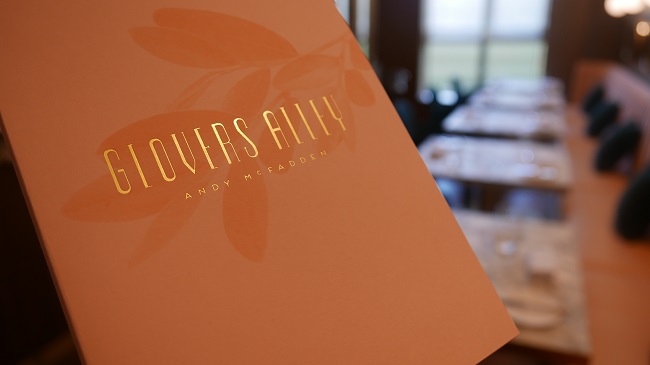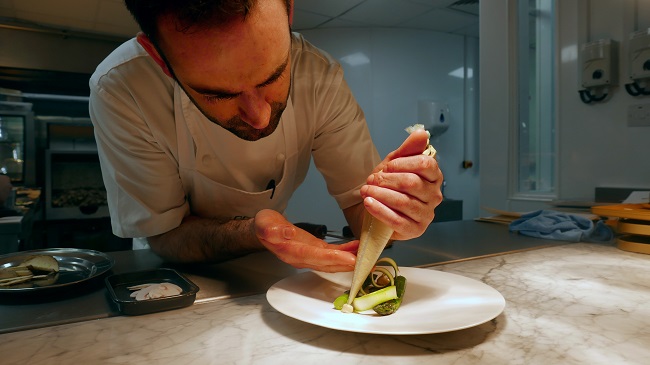 This exclusive recipe epitomises McFadden's style of cooking, as it is made up of a fusion of flavours and colour but balanced out with a light, natural touch. The vibrant greens of asparagus contrast well with the darker mushroom tones. Textually, the crunch of asparagus pairs nicely with soft mushroom; not forgetting the backdrop of the Belper Knolle cheese which provides a harmonising subtle sharpness as a finishing note.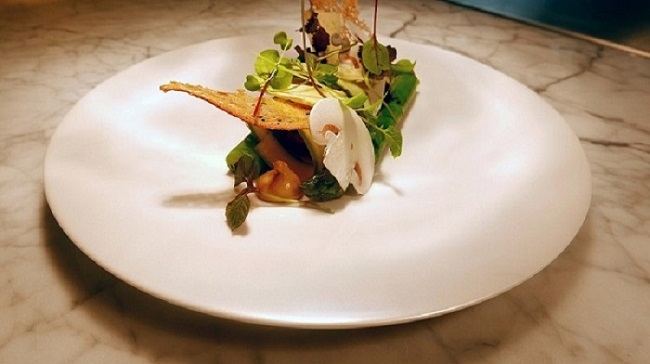 Asparagus, Button Mushroom, Mustard, Belper Knolle
Serves 4
Ingredients
• 500g asparagus, trimmed
• 1 lemon
• ½ tsp Dijon mustard
• 4 tbsp extra virgin olive oil
• ½ tsp caster sugar
• Sea salt & freshly cracked black pepper
• 300g diced button mushroom
• 200g diced shallot
• 2 cloves garlic
• 90g madeira
• 50g 3 year old balsamic
• 200ml olive oil
• Salt
• 2 bay leaves
• sprig of thyme
• 200g water
• Belper Knolle, finely sliced
Method
1. Blanch half the asparagus by plunging it into boiling salted water for 2-3 minutes until its rawness has been removed but it still has a bite.
2. Finely slice the trimmed asparagus spears on the diagonal using a mandolin. Mix the juice of ½ a lemon, Dijon mustard, extra-virgin olive oil, sugar, sea salt and black pepper to taste in a small bowl. Pour over the asparagus and toss well.
3. Heat the oil in a large pan. Add the garlic, followed by the diced mushroom and salt. Caramelise and when golden brown, add the shallot, thyme, bay and continue to cook until golden brown and the shallot is soft. Add the madeira and reduce to a glaze. Add the water and reduce by half. Allow to cool completely, then remove the bay, thyme and garlic and blend until smooth. Pass through a fine sieve.
4. Plate the asparagus with the mushroom vinaigrette & Belper Knolle & a few little edible herbs.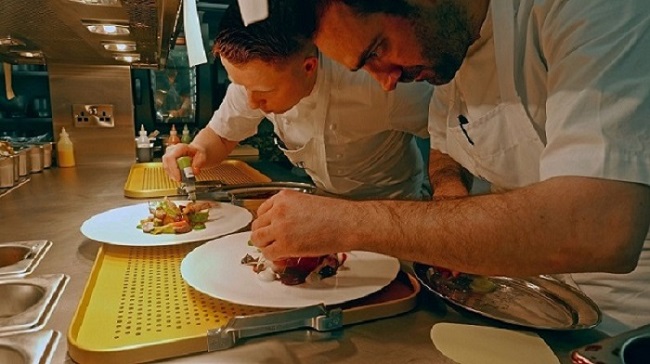 To shop the William Edwards Home Frost collection, click here.
To find out more about Glovers Alley, click here.