As Seen In | Evening Standard
03/05/2018

BEST ROYAL WEDDING MEMORABILIA
With the royal wedding fast approaching, we've gathered the best souvenirs to mark the monumental occasion.

As the days count down to May 19 th, there's a sense of Royal Wedding frenzy in the air, particularly from the nation's retailers. After all, there's nothing like a Royal Wedding to inspire everything from biscuit tins to badges.
In fact, from the moment the Prince and his beautiful American fiancée announced their engagement at Kensington Palace, the souvenir industry burst into action emblazoning the couple's faces and names on all sorts of merchandise, both officially endorsed and informal.
It's no surprise; as one of the most prominent and popular members of the Monarchy, a historic event like Prince Harry's wedding was always bound to trigger some creative and well crafted special editions.
From official commemorative china your mum would adore to limited edition teas and mugs – because besides the Royal Family, what's more British than a proper cuppa? – UK entrepreneurs, designers and companies have got creative when it comes to celebrating Prince Harry and Meghan Markle 's imminent nuptials.
Here's our edit of the best Royal memorabilia to mark the historic occasion.
William Edwards Royal Wedding Collection
Best for: a luxury alternative
The plates of preference for some of the country's top chefs (Tom Kerridge, Brett Graham and David Morgan-Hewitt are all fans), ceramist William Edwards are known for crafting fine bone china from Stoke-on-Trent, the epicentre of England's ceramics industry.
Ahead of May's national event, the company has released a vintage-looking Royal Wedding Collection, featuring the UK's national floral emblems (rose, thistle, shamrock and daffodil) and a H and M entwined design all in a very fetching 22-carat gold and platinum decoration. Wash by hand only.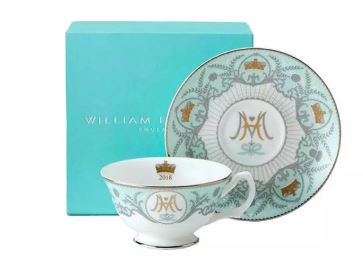 To buy from the Royal Wedding Collection, see here.

To read more, see here.